You are here:
Decoders
>Cimarron Technologies C Plus III
Cimarron Technologies C Plus III
Single Window Display Multi Format ANI Decoder
Multiple window dispatch display. 5 or more ID's viewable at a time.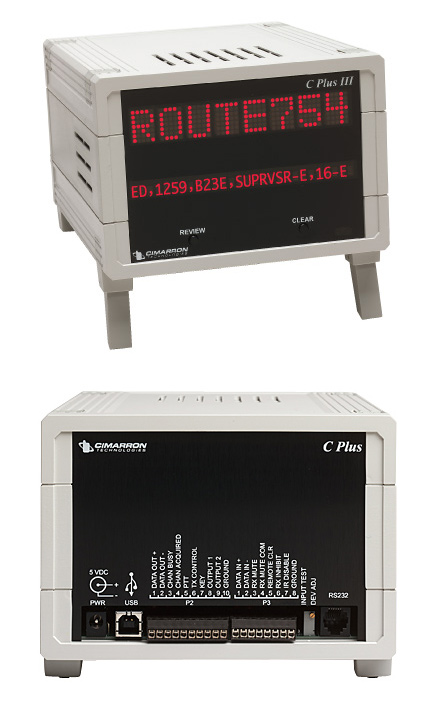 Features
MDC-1200, FleetSync, DTMF, and GE-Star compatible
36 character LED display
Shows 5 or more ID's on the front display
Energency Acknowledgement
Unique Man-down and Emergency display
Programmable RS-232 Serial Output
Enable/Disable, Call Alert, Microphone Monitor &
Select Call features available
DSP control for fast, reliable decodes
Trunked or Conventional system compatible
Real Time clock for time and date stamp
"Enunciate" function allows for unique tone sounds
when specific ID's are received
Taxi bid mode that holds the first received ID
in the main display until the display is reset
8 Character DTMF decode with staus bit at end or beginning
Customizable message naming
Two open collector outputs for external alarms, auto dialers, etc.
Programming software and tests built into the unit
100 to 240 VAC power supply included
3-year warranty
Price: $1795.00
Dealers - CALL for reseller pricing: 1-800-654-9550
---
Optional Features
Alias:

4000 ID table allows a 27 alpha-numeric character output.

Encode with Ambush:

Compatible with MDC-1200, GE-STAR, and FleetSync. Will allow long and short call alerts, Radio Check, Microphone Monitor, Voice Select Call, Radio Enable and Disable, Call Cancel, and some status reporting.

Authorize:

Permits the user to program a list of authorized ID's into a table. The C Plus will then respond only to those ID's.

2 or 3 Format Decode:

A standard C Plus is user selectable for format. With 2 or 3 format option, the C Plus can be programmed to decode more of the listed formats.

Tone Remote:

125 ms tone burst of 2175 Hz followed by function tone.

Programming cable:

6 foot RJ-11 to 9 pin serial cable

Rack mount kit:

19" single or dual

Handheld terminal:

Can initiate outbound messages

DC power supply:

12 VDC conversion available
---
Technical Specifications
Data Input:

Single ended 30 mV to 12Vpp;
Balanced 600 Ohms: -30 to +10dBm;
Hi Z: -36 to +4dBm

Data Output:

Single ended 600 Ohms: to 14 Vpp;
Balanced 600 Ohms: to +10dBm;

Power Requirements:

5 VDC +5% at 2 amps

Dimensions:

8" x 6.25" x 4.75" (20 x 16 x 12 cm).

Weight:

2 lbs 4 oz (4.95 kg) including external power supply.

Sounder:

Audible 3400 Hz 80 dB(A) at 2 feet. Programmable.

Rear Connector:

Two separately removable screw terminal strips.
---
Product Downloads